David Hemingway:
November 2020
Advent in Bishops Offley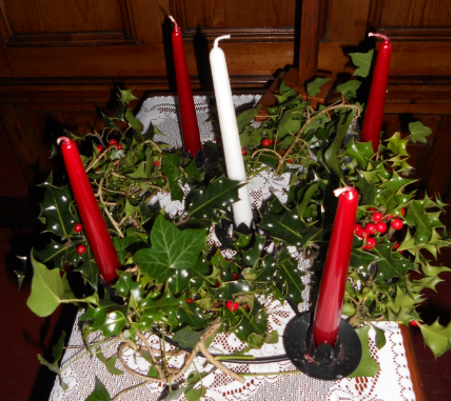 A reverse advent calendar, the Christmas story in twenty-five chunks and a joke a day!
You will be pleased to know that we've been busy in preparation for Advent and have three delights for you, every day running up to Christmas Day.
Firstly, we are going to be thinking about a 'reverse Advent calendar' over the next few weeks. This is the idea of buying a few items extra and donating to a foodbank. Every day we are going to suggest an item that you could add to your regular shopping list and either drop into the Food Bank basket at your local supermarket, or put in a bag and drop off at my house. (David & Liz — 01785 280478 for our address). We will pass it on to a local food bank, just in time for Christmas. (If dropping off with us then you may want to make a couple of drops so we can get some of the goods to the foodbank earlier in December).
Secondly, we are going to tell you the Christmas story in twenty-five short chunks.
Thirdly, you will be pleased to hear that we are going to reprise the 'Bishops Offley Christmas Cracker joke per day' of previous years.
For more details, please follow the link to our Facebook page: https://www.facebook.com/Bishops-Offley-Methodist-Chapel-120708984645934
You may also be interested in