D A Hemingway:
May 2018
The Chapel features at the Spring Synod of the Wolverhampton & Shrewsbury District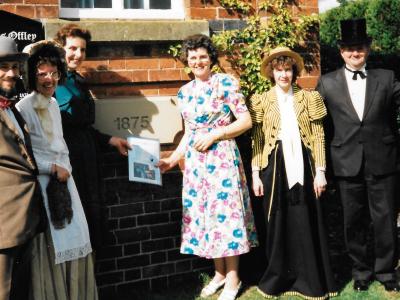 Revd Rachel Parkinson — Chair of Synod — has been encouraging all of the circuits in the district to explore their vocation. At the autumn synod we heard some inspiring stories where individuals from the area had made a difference in their community. For the spring Synod, held a few weeks ago in Walsall, Rachel was considering the vocation of church communities.
She chose three examples of churches who had found a vocation:
'Bethel' based in an urban community near Cannock, which is undertaking Christian outreach into their community and using the challenges from their younger people ("why must I look at the back of someone's head all through worship?") to change their style and being,
Pleck, a church near Walsall, which has become a place of welcome and peace for asylum seekers, and
(fanfare of trumpets) Bishops Offley, which is seen as a rural church pushing its way to be at the centre of the community.
The chapel members were very proud to have been chosen, and it reflects well across the circuit that the Mission planning that all churches are undertaking in the circuit can make a difference. We started our plan a few years ago, when we were challenged to change or else we'd fade away. ("Would anyone be bothered if the church closed tomorrow?")
Short films were made of all three churches to show what they'd done and their thoughts on where they are heading; these and similar made for the individuals last autumn have been published on Youtube. The ideas that they can generate make a half hour's viewing of all six films followed by discussion a very rich and rewarding evening's fellowship. Just enter 'Deborah Willis' into Youtube and you should be pointed to the films.
This is the link for the Bishops Offley film.
If you want to find out more, then please contact Liz on 01785 280478 or Amicia on 01785 280633
You may also be interested in