David Hemingway:
November 2018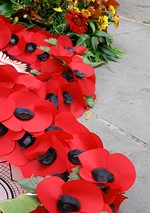 The friends at Bishops Offley Chapel invite you to a series of events that we're holding on Remembrance Sunday
The chapel will be open from 10:30 on Sunday 11th to allow visitors to spend time in contemplative thought about those from all nations and nationalities that have been killed or injured in war, focussing particularly on the First World War.
There will be displays of posters, poetry and images together with two prayers stations that will focus on 'Remembrance' and on 'Peace'.
Visitors can come and spend as long as they want — members of the chapel will be available for a chat or a prayer. All will be made very welcome.
Revd Jimi will be leading worship at 5:30 pm and we'll be making our way up to the Millennium Green at 6:30 for beacon lighting and joining in the nationwide commemoration when church bells will be rung at 7pm.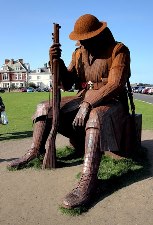 Tommy is a statue of a First World War soldier by artist Ray Lonsdale, displayed close to Seaham war memorial, on Terrace Green by the seafront in Seaham, County Durham.
The corten steel statue weighs 1.2 tonnes (1.2 long tons; 1.3 short tons) and is 9 feet 5 inches (2.87 m) tall, with a rusty red patina. It depicts a First World War soldier, wearing boots, puttees, greatcoat and tin hat, sitting on an ammunition box, with downcast eyes, holding the barrel of his grounded rifle in his right hand. It is officially named 1101 (or Eleven-O-One), referring to the first minute of peace as the armistice came into force at 11am on 11 November 1918, but is more popularly known as Tommy, referring to the archetype private soldier Tommy Atkins.
('Tommy' image courtesy of Dunpharlain; 'Poppies' image courtesy of Andrew Dunn)
You may also be interested in